I have the sweetest friends and they have provided guests posts just for you while I am away. Thank you so much for all your support and prayers. Please keep them coming sweet friends!!! Please show some love to my wonderful guests and have a beautiful blessed day. God is so good!!! xo
~*~ Pinterest Fanatic is excited to welcome the lovely Liz, from DevotedMommyof3 ~*~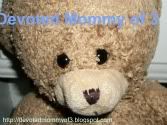 When you live out of the way, going to a grocery store daily or even weekly, may be out of the question. My sister would faint if she didn't have a Wal-Mart within 1 mile of her home. She's what you would call a 'daily' shopper. My family on the other hand, shops once a month. Doing so accomplishes more than 1 goal.
First, it's a huge savings on gas. I have to have an SUV to get up & down our road. We live on top of a hill that is unpaved. Essentially, yes, it's a dirt road. Some days, I'd prefer a pack mule-trust me. We all know SUV's are nasty on gas. So by only driving a distance once a month &
not having to fly out of the house to pick something up, I can stretch our gasoline & our budget.
Also, there is less wear & tear on your vehicle which saves mucho bucks in the long run. Not to mention if you have little ones, there's no fight to get them ready or in & out of the car.
Monthly shopping forces you to have a game plan. You have to take stock of the pantry & freezer. Make a list & check it twice. If you're a couponer, you need to make sure that you have coupons ready for when you go. This forces mass organization. There's no pizza shop who delivers out here. If you don't prepare, you may be in trouble.
Healthy options are another plus. You have to make sure that you're meals are well balanced so you need to know what to buy when & how long it lasts. If you can garden, it's plus. But you have no choice, but to know what you're having on which night & what you need for it.
Teamwork is a must. Monthly shopping for our family of 5 means many, many bags. I've switched to many reusable shopping bags. They take up less room, are good for the earth, & create less havoc in my small kitchen. My kids know that on shopping day, Mom is at the store by 4:30 AM & that by 7 or 7:30, Mom's waking them up. They have their own strategy, but one carries, one unloads the bags, & if the oldest is home, he starts putting away. I usually like to do this though, because they have no sense of order. By using this system, we can be unloaded & stocked within a half hour. Not too shabby.
Any shopper can utilize the once a month trip. It will save you money, gas, & time. You won't end up with any impulse buys. Your family can learn teamwork & to live within their budget.
Bio: Liz is a 30-something Mom of 3 sons (18,15,9). She is a stay-at-home mom and homeschooler. She also blogs, reads (a lot), and is active helping with community needs. She and her family live in VERY rural Pennsylvania. Please be sure to show her some love on behalf of Pinterest Fanatic...