Welcome to the IMUSA USA 4 cup Espresso maker 8pc. cup set and coffee giveaway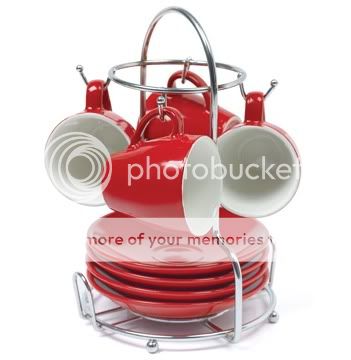 This giveaway is sponsored by IMUSA USA
About UMUSA USA
When you make Latin food at home, make it with IMUSA, Latin America's favorite line of kitchenware. Consider it your secret ingredient for cooking and serving authentic Latin favorites. With tamale steamers and tostoneras, comals, calderos, griddles and gadgets.
Our review
Follow the link if you want to read our full review of the
4 Cup Electric Espresso Maker
About the giveaway:
This giveaway 11/18/2012 11:59 pm 12/04/2012
About the prize:
One winner will receive a Bistro 4 Cup Electric Espresso Maker, 8pc. espresso cup set and coffee.
a Rafflecopter giveaway
COMING THIS NOVEMBER AND DECEMBER: GIVEAWAY FANATIC AND PINTEREST FANATIC PRESENT, "THE 2012 CHRISTMAS GIFT GUIDE" FOLLOWED BY "12 DAYS OF CHRISTMAS GIVEAWAYS!" WE WILL BE FEATURING REVIEWS ON THE HOTTEST GIFTS THIS SEASON ALONG WITH PROVIDING EXCLUSIVE DISCOUNT CODES JUST FOR YOU! THEN WE WILL OFFER YOUR CHANCE TO WIN OVER $1,000 IN PRIZES COURTESY OF OUR FEATURED SPONSORS. THERE WILL BE TOYS, GAMES, PURSES, BEAUTY PRODUCTS, ELECTRONICS, GIFTS FOR MEN, WOMEN, KIDS AND MORE! STAY TUNED - BEGINS 11/23/12!!!
Terms and Conditions:
This Contest is Open to U.S. Residents over age 18 only.
This Giveaway is being brought to you in association with Giveaway Gator. The participating bloggers cannot be held responsible for the delivery of this item, as that is the responsibility of the sponsor.
Disclosure: I received no compensation for this publication. My opinions are my own and may differ from those of your own.
Please be sure to read any additional rules listed under the terms and conditions on the rafflecopter.